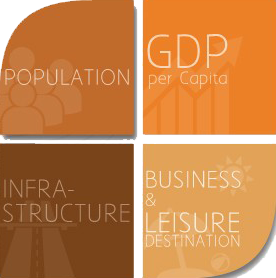 Business Driver
PanoramaLand capitalizes on Indonesia's favorable property market with the following key elements to drive the business growth:
Population – taking into accounts density and growth as the determining factors to measure the people's needs and their sizeable scheme.
(Area) GDP per capita – making the most of the rise of GDP per capita in each area that signals growth in the economy, productivity and sustainable values.
Infrastructure – benefiting from the infrastructure and every installed destination that will become the land of opportunity for outsiders.
Leisure Destination – reckoning the lucrative values of leisure destination potential to develop residential and commercial sites as well as other business related projects.
Lucrative Business Platforms
Profitable Investment is every investor's forethought.
We are set to gain ground on other players in the property industry with our unique yet lucrative products. This is where we play our part to seize new opportunities in Indonesia's property marketplace.
Set to excel at its dynamic growth through its sustainable values, PanoramaLand is mapping its investment outlook that makes for lucrative business platforms consisting of Ownership Investment, Property development and Hospitality Management. 
OWNERSHIP INVESTMENT:
Establishing business with owner investment
The property is fully – owned with joint-venture scheme using the economies of scales
PROPERTY DEVELOPMENT:
Project consultation and advisory to organize project constructions and renovations
A team of experts is around with sole purpose to secure owner investment by:

Providing consultation and advisory to ensure the right development and sustainable construction of the targeted establishment
Monitoring effective costs and valuable capital expenditure, as well as integrating environmental concerns.
Consultation and advisory to oversight the selected team or contractors of development, from architect and interior designs, to general contractors, MEP, landscape, sound and lighting, QS, all the way to procurement assistance.
HOSPITALITY MANAGEMENT:
Hotels & resorts services
The entity manages the establishment under one of its recognized brands for the owner in exchange for variable fees.